Take a ride back to the Jurassic Period and discover the magic of Dinosaurs! Take the train to The Susquehanna Mining Company. At The Mine you will have an afternoon of activities to enjoy. The Dinosaur Show, Scot Wagstaff ventriloquist with his funny talking animals, The grand master Band Wagon, meet and Greet with Davy the Dinosaur and of course The Velociraptor show with Blue! While on site pan for real fossils at the Mine and marvel at the history of the Susquehanna Mining Company. Explore THREE corn Mazes. One maze is a Dinosaur Exploration Maze. Find 4 different Dinosaurs in the MazeWhat a fun experience to win for you and your kiddos!
When: Sept 16 & 17th
Time: 10am, 12pm, 2pm
Location: Phililpsburg, NJ (Delaware River Railroad Excursions)
Cost: $18/child and $22/adult
---
Tickets are available now and can be purchased online HERE!
The Dinosaur Show
Field Paleontologists Mike and Roberta Straka will take you on a scientific exploration highlighting the world of dinosaurs, fossils, and rocks/minerals. Each summer, the team explores the Badlands of North and South Dakota excavating dinosaurs. This fun-filled wow-factor show will cover the formation of fossils and herbivores vs. carnivores. We will discuss our work as field paleontologists and our background in geology in a relatable way with entertainment, humor, magic, and real fossils. The presentation will feature: - "Mr. Nixon", a real eight-foot Triceratops skull discovered by our team in 1996 and is 67 million years old - A real Albertosaurus skull will highlight the features of a carnivore. - Original music - songs - show & tell with rare fossils - a touch of magic which includes a special "egg magic trick" which segues to - presentation of a real dinosaur egg fossil - "Dinosaur Game Show" will round out the show.
Fossils at the Susquehanna Mining Company
Each Guest takes the mine tour and learns about the unique history of the Susquehanna Mine. After witnessing the exploding mine shaft and history tour the guests learn how to pan for fossils! Each guest receives a bag of fossil-bearing ore. There are over 20 different fossils along with a beautiful identifying card
The Corn Maze
Play the game where getting lost is half the fun. We have two mazes ( different designs each year) with two different games to play. Play the numbers game where you search for the check points, 6 in each maze. Once you find the checkpoint, you punch out the corresponding kernel of corn on your maze map. Get 1 to 6 in the small maze and or 7 to 12 in the large maze and you win!
The Dinosaur Exploration Maze
Venture into the Dinosaur Exploration Maze, a simple maze with Huge Dinosaurs to capture your imagination and inform you about different dinosaurs!
Other Fun Activities
Test your artistic skills with spin art, laugh at Dino temporary tattoos, enjoy dino stamp art, and coloring, and take a picture with our very own Davey the Dinosaur!
Food
On site we will have some great Carnival food for your enjoyment by Dales concessions!
Get your tickets for Dino Days
The Susquehanna Mining Company
https://877trainride.com/mine.htm
Other events along your journey...
For an additional fee ( only $8.00) add the Susquehanna Mining Company to your adventure. Learn the amusing and trajic history of the mine and pan for gem stones you can take home! From late August to the end of October play the game where getting lost is half the fun! Come explore the Corn Maze. this is also only a $5.00 add on when purchasing tickets.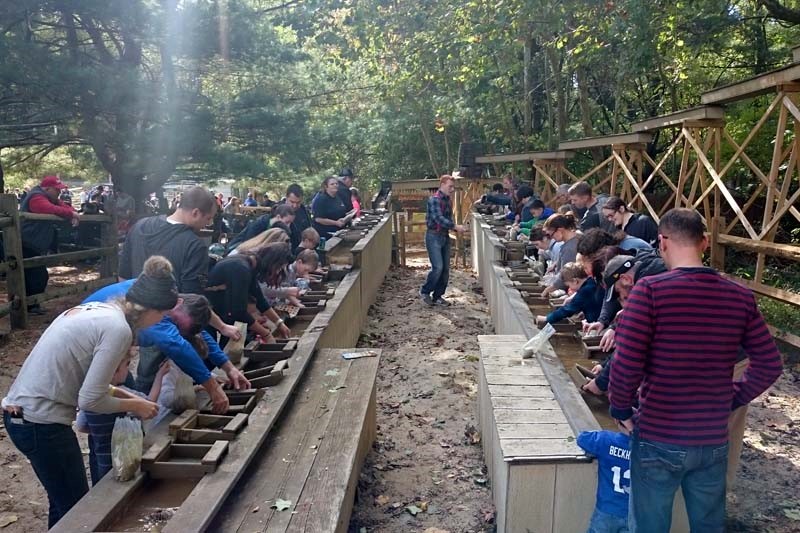 Gemstone Panning is a great activity for all ages. Participants may find up to 11 ounces of gemstones in a single bag which may include amethyst, rubies, rose quartz, emeralds, crystals, and an arrowhead. All gems are of high quality and may be suitable for cutting, polishing, and mounting. With every mine train ticker, you will receive one bag of mining ore from the Ole' Susquehanna Mine.

Not subscribed yet?
Get a FREE kid-friendly event calendar for Clifton-Montclair full of festivals, fairs, activities, events, and more!
Sign up by clicking HERE!

Serving: Montclair, Verona, Clifton, Bloomfield, Little Falls, Cedar Grove, Nutley, Passaic, Paterson, and Glen Ridge.