Looking for a drivable two or three-day trip but unsure where to go? We're recommending a less than two-hour drive to Sullivan Catskills, fun for all during summer, winter, and even just for a getaway weekend as a couple or as a family.
---
The author was hosted to facilitate writing this article. All thoughts and opinions expressed are their own.
---
1) INDOOR WATERPARK: We love the idea of being busy with activities and having options for downtime. While being hosted at the newly built The Kartrite, we enjoyed their indoor waterpark with Flow Rider lessons, fantastic waterslides, a lazy river, and a splash pad area for younger kids. They had brand new life jackets and certified lifeguards on site to keep our anxieties at bay – they even earned the Platinum International Aquatic Safety Award in 2021. An indoor/outdoor gated heated pool was an excellent way to relax and made us feel like kide again. The clear glass roof makes you feel like you are outdoors with the luxury of being indoors.

2) OUTDOOR ENTERTAINMENT: Imagine an open space for your children to run around and play, where you can also have your eyes on them at all times. The Kartrite outdoors is spectacular, surrounded by outdoor games, firepits, and hiking trails available at all times, with additional activities like archery and goat yoga being set up daily. Fun fact, The Kartrite broke the Guinness Book of World Records for the largest S'more! Head on over to their gift shop to buy your own s'more kits to be part of the fun.

3) INDOOR ENTERTAINMENT: Indoors you can eat at one of their eight eateries, spend hours at the arcade with out-of-this-world prizes, complete a ropes course, and fulfill a sweet tooth at Pop's Candy and Sweet shop.

4) ACCOMMODATIONS: Accommodations were modern, clean, and spacious with plenty of room options for larger-sized families and daily housekeeping. Rooms come with a mini fridge and microwave and the beds are really comfortable!

5) FOR ADULTS: Sign your children, ages 5-12, up for Kid's Night Out, a 3-hour chaperoned evening on Friday and Saturday nights, and enjoy your time as a couple. Eat at one of the restaurants on-site, go on a hike, and walk on over to Resorts World Catskills and check out the casino! Get a room on the ground floor with access to walk directly out to the firepits.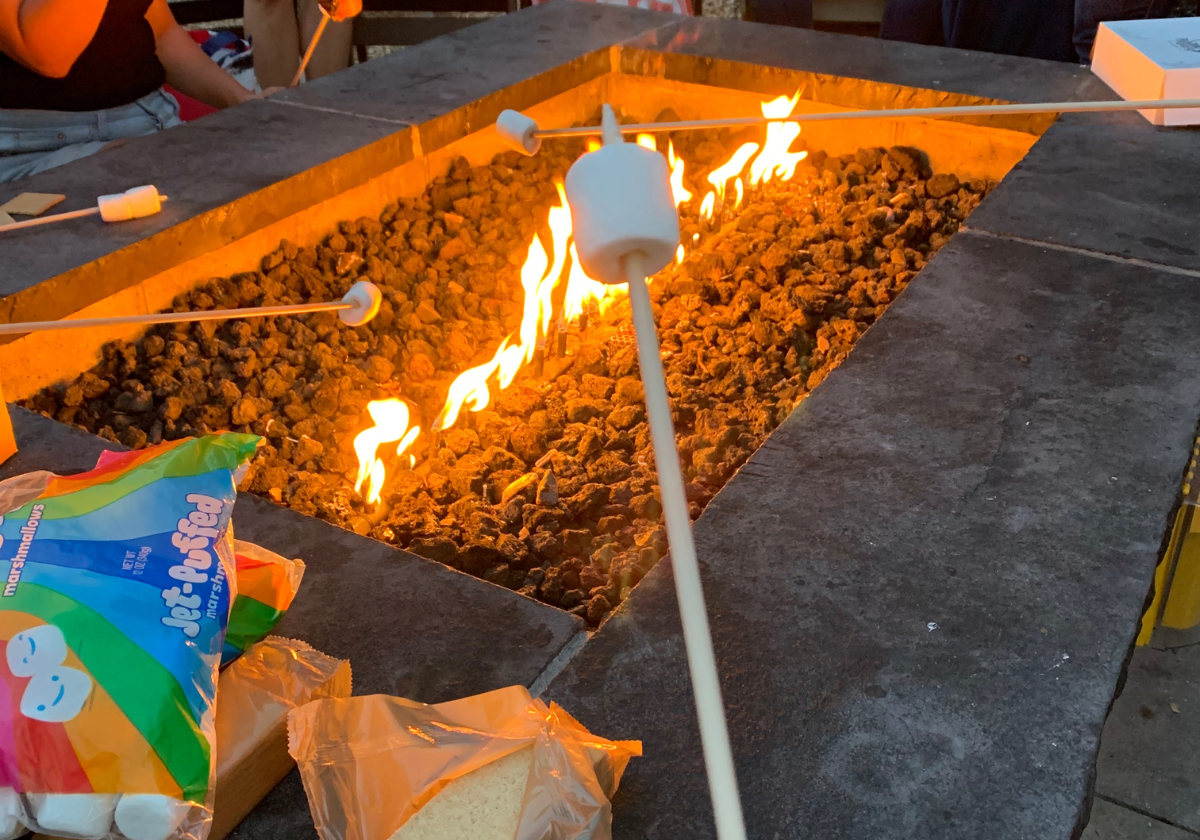 6) ACTIVITIES IN SULLIVAN CATSKILLS: Looking to venture out and about? The Kartrite offers transportation to Bethel Woods Performing Arts Center to and from concerts, Lander's River Trips, and more. In the winter, there are several ski resorts in Sullivan Catskills too.

We have always heard stories about families traveling to the Catskills for summers in the 1940s and 50s and have been curious what the draw was and what it would be like now... We are grateful for our hosted trip and to experience the Sullivan Catskills ourselves and we totally get the hype.
We could feel that life slows down. We love hustle and bustle, but being surrounded by nature and hiking directly from The Kartrite was a breeze. We loved the ease and scenery of driving to unique places like The Woodstock Museum at Bethel Woods, exploring the legendary Villa Roma Resort, and even shopping at nearby Woodbury Common on our drive back. Planning a family vacation or couple's getaway is within our fingertips and may we strongly suggest staying at The Kartrite.
Villa Roma is offering Macaroni KID readers 10% discount HERE.
Even more activities at The Kartrite and in Sullivan Catskills
At night The Kartrite plays popular children's movies in the lobby on a huge movie screen with a cozy setup for the kids on the floor.
Sullivan Catskills Dove Trail commemorating the 50th anniversary of the original 1969 Woodstock Festival, locate 50 professionally hand-painted dove sculptures around the area.
Lander's Rivers Trips down the Delaware River at one of their 3 campgrounds
Did you know Montclair-owned Java Love has a location open on weekends in Sullivan Catskills? Get your favorite cup of coffee while on vacation.
See a concert at Bethel Woods Performing Arts Center.
Explore the field where Woodstock's 1969 concert took place.
Visit the Woodstock Museum and listen to the actual performances from a speaker that was actually at Woodstock. Also, their docents are unbelievably knowledgeable!

---
We made a big splash at New York's biggest indoor waterpark, ate our way through several of their 8 bars and eateries, explored some of their 6 miles of hiking trails, and won great prizes at their full arcade. Whether you are 2 or 62 it's the perfect place to make memories in the Catskills!
Curious to learn more about Woodstock and Bethel Woods? Check out our latest feature HERE.
Subscribe to Macaroni Kid Clifton-Montclair's FREE weekly e-newsletter HERE to receive useful local resources sent right to your inbox!
Macaroni Kid Clifton-Montclair services Bloomfield, Caldwell, Cedar Grove, Clifton, Glen Ridge, Little Falls, Montclair, Nutley, Paterson, Passaic, and Verona.
Interested in advertising or do you know about an amazing family-friendly resource? Email us at JessicaKline@macaronikid.com.