Are you looking for a fun and unique way to entertain your kids and their friends for an upcoming birthday party or special occasion? Look no further than Backyard Cinemas, the premier outdoor and indoor movie theater experience.
At Backyard Cinemas, our team brings everything you need to create a cinema-like experience in the comfort of your own backyard or indoor space. We provide fresh popcorn, candy, drinks, surround sound, and ambient lighting to create a truly immersive movie experience. It's the perfect way to bring people together and enjoy some quality family time.
In addition to our movie night services, we also offer Backyard Arcade, where up to 16 players can enjoy playing video games on a big screen. It's a great way to bring some friendly competition to your event and keep the kids entertained for hours.
Our team takes care of everything, from setting up the equipment to cleaning up after the event. We understand that parents have a lot on their plates, so we strive to provide a hassle-free experience that allows you to sit back, relax, and enjoy the show. Our team is dedicated to creating a unique and enjoyable experience that your family will cherish for years to come.
For more information, please visit our website or contact us directly. We can't wait to help bring the magic of the movies to your backyard or indoor space. Sign up here to receive a gift card for any MAC KID Subscriber! Just select Macaroni KID from the referral dropdown.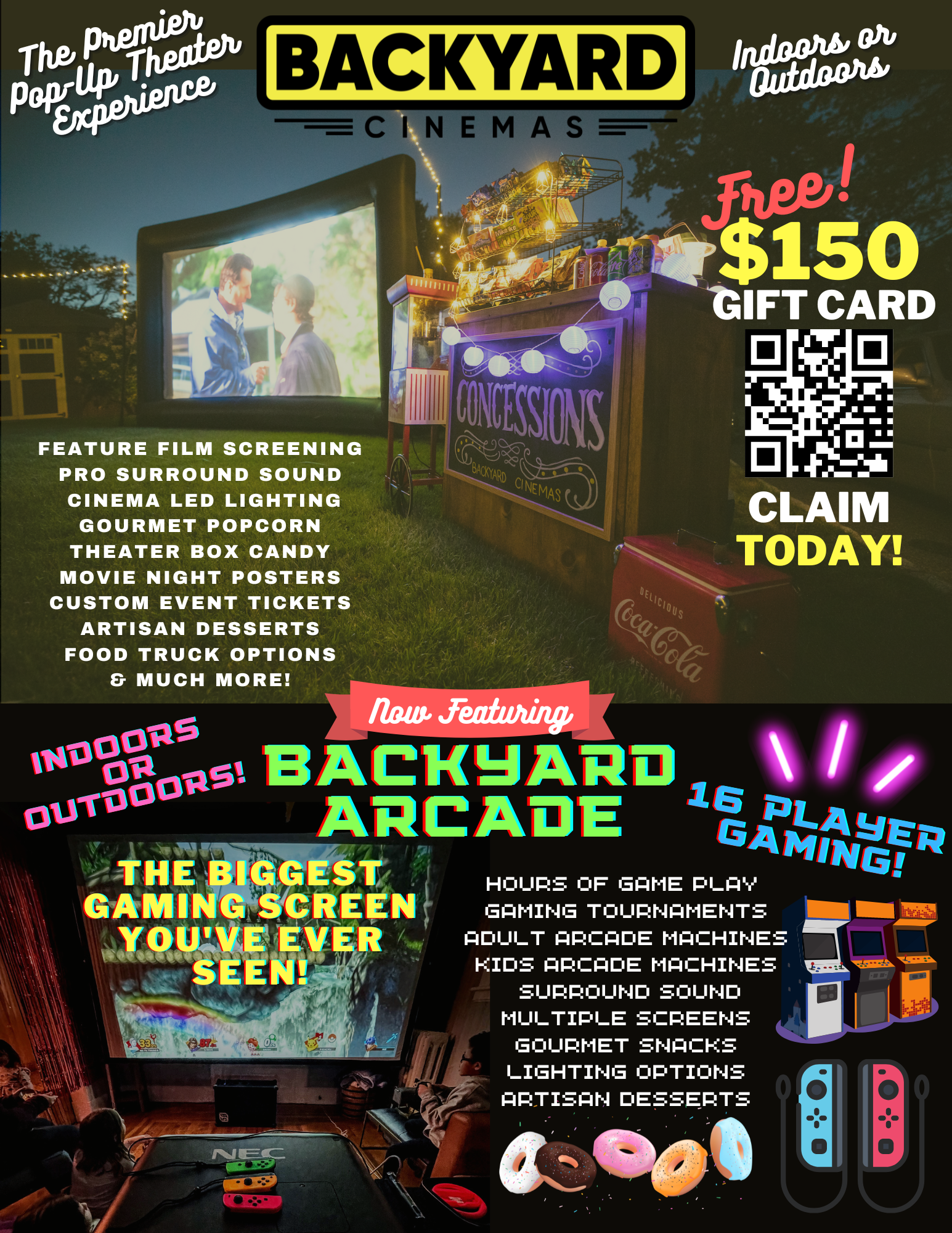 Book today or schedule a time to chat. Dates fill up quickly!
Backyard Cinemas, founded in Bloomfield NJ, began bringing the premiere outdoor theater experience across the Tri-State area in May 2020. After their third outdoor movie season, they are back by popular demand and open for their inaugural winter season!
CALL OR TEXT (973) 506-9373
website: HOME | Backyard Cinemas
Subscribe to Macaroni Kid Clifton-Montclair's FREE weekly e-newsletter HERE to receive useful local resources sent right to your inbox!
Macaroni Kid Clifton-Montclair services Bloomfield, Caldwell, Cedar Grove, Clifton, Glen Ridge, Little Falls, Montclair, Nutley, Paterson, Passaic, and Verona.
Interested in advertising or do you know about an amazing family-friendly resource? Email us at JessicaKline@macaronikid.com.