Balloon Wonders by Mari offers luxury balloon decor services. Classic and organic unique and personalized services both for individuals and corporations. Giving any event that wonderful extra oomph needed to make an impact. Owned and directed by creative heart Mrs.Marilyn, known to all as Mari. The girl who always loved numbers and wearing suits. Still does, but now finds her best self being truly happy and proud wearing leggings and shirts with her company's logo. A workaholic, passionate about her work. Always eager to learn and grow more every day.
Balloon Wonders was created with the sole purpose of creating wonderful memories.
Delivering a special gift, no matter its size. Surprising a special someone, and seeing the reactions is priceless. Decorating a plain room and transforming it into the highlight of the event, is simply wonderful.
Balloon Wonders is all about making someone smile, entertaining, and wowing the customers with balloon decor. Surprising them with the unexpected and rare beautiful balloon art work.
Feel free to send us an inquiry: HERE.
Business Review
Whenever you are in need of balloons for a special occasion may we suggest Balloon Wonders by Mari, the balloon master behind our Pride balloon decor at our Pride booth and our Holiday events.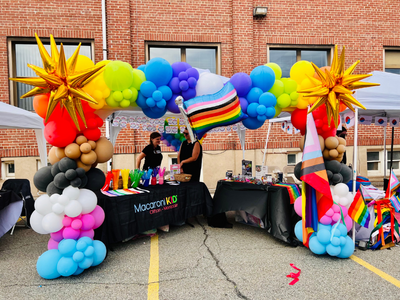 We have recommended her for a surprise balloon birthday ensemble for many of our friends who were more than pleasantly surprised by how fantastic their balloon arrangements turned out.