Harvest dates listed may vary depending upon weather conditions and the geographic location of the farm. Call ahead to avoid disappointment!


Fruits & Berries

Early

Most Active

Late

Apples 🍎🍏

July 15

Sept 1 - Oct 25

Oct 31

Blackberries🖤

July 10

July 15 - July 30

Aug 10

Blueberries 🫐

June 20

July 5 - Aug 10

Aug 15

Cherries 🍒

June 10

June 10 - June 25

June 25

Grapes 🍇

Aug 25

Sept 10 - Sept 20

Sept 30

Peaches 🍑

July 5

July 20 - Sept 1

Sept 15

Pears 🍐

Aug 1

Aug 10 - Aug 31

Sept 10

Plums 💜

July 1

July 15 - Aug 15

Sept 1

Raspberries❤️

Traditional

July 1

July 5 - July 21

Aug 1

Fall Bearing**

Aug 15

Sept 1 - Sept 20

Oct 15

Strawberries🍓

May 20

June 1 - June 10

June 25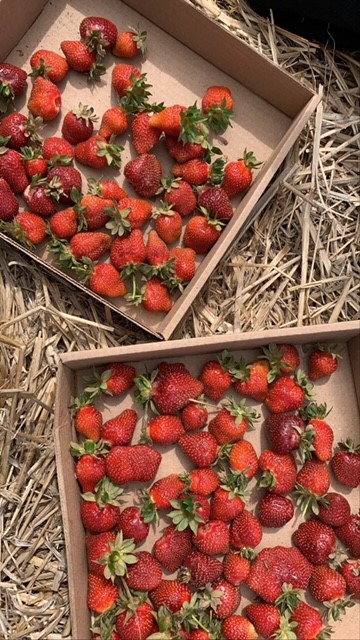 Abma's Farm
Check Facebook for updates
201-891-0278
Wyckoff
Potato picking in July and August.
Tomato picking in August.
Greenhouses are open.
Barnyard tickets are available to see animals here.

Alstede Farms
Check Facebook for updates
908-879-7189
Chester
Pick Your Own tickets must be purchased in advance - more info here.
Offering many different Pick Your Own options (fruits, veggies, flowers, pumpkins) throughout the season.
Battle View Orchards
Check Facebook for updates
732-462-0756
Freehold (Wemrock Rd for patch)
Sour Cherry season - will begin approximately June 22nd - check back with us closer to the date for detailed info and exact opening day information!
Peach season - typically begins the second week of July!
Apple season - typically begins in the beginning of September!
Cash only.
Demarest Farm
Check Facebook for updates
201-666-0472
Hillsdale
Pick your own peaches mid-July - August.
Pick your own apples opens 9/4.
Pick your own pumpkins opens 9/18.
Farms View Roadstand
Check Facebook for updates
973-839-1212
Wayne
Farm market/garden center is open.
No reservations or pre-tickets needed.

Check Facebook page for updates
973-545-2172
West Milford
Orts Farm
Check Facebook for updates (they close on occasion until things are ripe)
908-876-3351
Long Valley
You can order curbside produce and fresh groceries from their farm right on their website.
Offering storytime, check their Facebook page for details. Suggestion to buy tickets ahead of time here.


Snyder's Farm
Check Facebook for updates
732-496-0441
Somerset
Open weekends only for u-pick.
The blueberry season usually starts in late June is over in late July
Aronia season starts in mid-August and is over by mid-September.
*Call and/or check each farm's local Facebook page to confirm they are open, weather and stock availability permitted.
Sign up for FREE by clicking THE MACARONI!

Macaroni Kid Clifton-Montclair serving: Montclair, Clifton, Cedar Grove, Little Falls, Bloomfield, Verona, Glen Ridge, Paterson, Passaic, and Nutley.