It's HOT this week! Below are the closest splash pads if you want to look them up to see if they're open this week!
Splash Pads and Spray Parks are always all the rage and we only have a few nearby. If you don't mind traveling a little further, check out:
John Russel Wheeler Spray Park
GPS: 248 W Stimpson Ave, Linden, NJ 07036
Hours 11 am-6 pm
Youth 12 and Under (In County) $2.00 & (Out of County) $4.00; Adults 18 and Over (In County) $3.00 & (Out of County) $6.00
Lyndhurst Spray Park
GPS: 367 Valley Brook Ave., Lyndhurst, NJ
$1 admission
Van Saun County Park*
GPS: 216 Forest Ave., Paramus, NJ
Hours: 10 am - 4 pm
Free
ADA accessible
*Currently under construction
Van Vorst Park Playground
GPS: Barrow St (at York St), Jersey City, NJ07302
Hours: 11 am
Watsessing Splash Park
GPS: 192 Dodd St, East Orange, NJ 07017 (This is the address for the Children's Museum next to it (sadly the museum is closed).
Hours: 11 am-7 pm
Free
Woodland Park Spray Park at Frank D. Zaccaria Park
GPS: 340 Riflecamp Road, Woodland Park, NJ
Cost: $5 per child
Hours: see below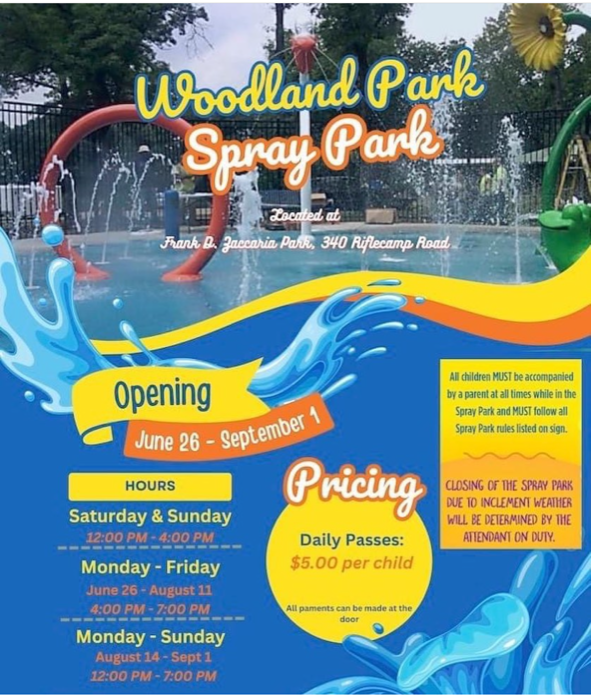 Subscribe to Macaroni Kid Clifton-Montclair's FREE weekly e-newsletter HERE to receive useful local resources sent right to your inbox!
Macaroni Kid Clifton-Montclair services Bloomfield, Caldwell, Cedar Grove, Clifton, Glen Ridge, Little Falls, Montclair, Nutley, Paterson, Passaic, and Verona.
Interested in advertising or do you know about an amazing family-friendly resource? Email us at JessicaKline@macaronikid.com.